Five days before a six-and-a-half year battle with breast cancer ended Jackie Collins' life, the
bestselling author sat down with PEOPLE at her Beverly Hills home and opened up about her diagnosis, her hopes for the future and her insistence on living every day to the fullest.
Although
Jackie Collins
did not know how much time she had left when she sat down with PEOPLE for an emotional interview on Sept. 14, just days before
her death
at 77, the celebrated novelist said she did not fear dying. Instead, she chose to embrace it with the strength admired by her devoted family, friends and fans.
"Death and taxes happen to everyone. So why should one be frightened of it?" she told PEOPLE exclusively from her home in Beverly Hills. "Also, I'm a hovering Buddhist. Hovering, because I don't chant. It's a very peaceful way of living."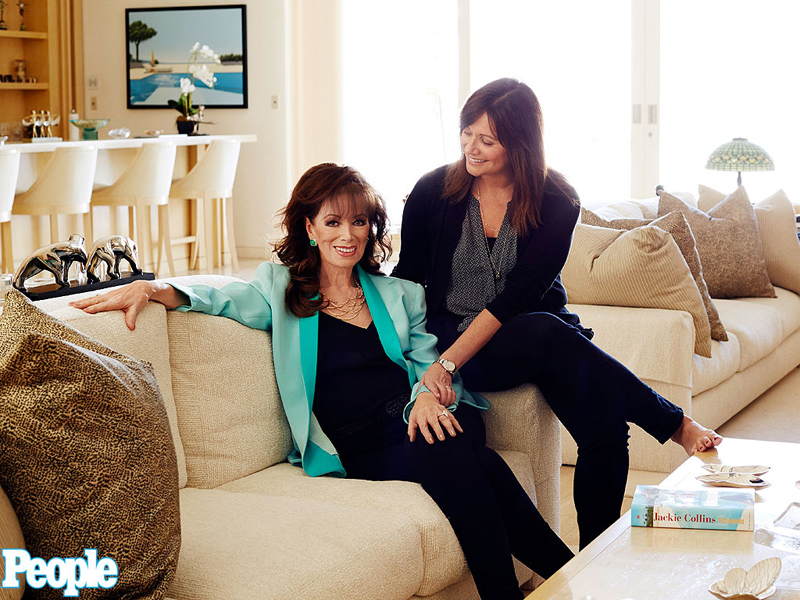 Jackie with daughter Tiffany
Choosing to live a full life until her last days – continuing to write and spend time with her three daughters, six grandchildren, brother Bill and sister
Joan Collins
– Collins revealed that she did not necessarily view death as something final.
"Death is peaceful, and maybe you come back as something else and maybe you don't," she said. "Now I'll sound very
Shirley MacLaine
, but I have this feeling that I was a cheetah or a panther in another life and that I was also a black soul singer. Male. So I do believe that you can come back as something else or someone else."
Collins said she thinks she briefly saw "the white light" during the birth of eldest daughter Tracy in 1961.
"I believe in the white light – I think I when I had my first daughter I saw it," she said. "I remember it very distinctly. It was like a tunnel, and the light is waiting for you at the end. I was in so much pain, literally tearing my hair and screaming the place down, so maybe I just decided to take off and then I changed my mind."
Diagnosed with stage 4 breast cancer six-and-a-half years ago, Collins chose to keep her illness almost entirely to herself, confiding primarily in her three daughters, Tracy, 54, Tiffany, 48, and Rory, 46 – who characterized their
beloved mother
as a "bit of a superwoman"
Collins told PEOPLE she
waited two years
to see a doctor after finding a lump in her breast, admitting she was "doctor-phobic" and initially willed herself to believe it was benign. But after her long battle with the disease, the author told PEOPLE she encourages other women to get diagnosed sooner than she did.
"That was my choice and maybe it was a foolish one, but it was my choice," she said. "Now I want to tell people it shouldn't be their choice."
Never one to wallow in self-pity, Collins focused on her legacy – and not regret.
"I want on my gravestone, 'She gave a great deal of people a great deal of pleasure,' " she said.
For more of Jackie Collins' final interview and photo shoot – and for interviews with her daughters – please pick up PEOPLE, on stands on Friday