As part of the BFI Southbank's Noel Coward season, they are screening the wonderful tv adaption of 'Fallen Angels' starring Joan on sparkling form along with Susannah York and Sacha Distel on Friday May 15th.. Tickets on sale today from BFI at
https://whatson.bfi.org.uk/Online/default.asp
Fallen Angels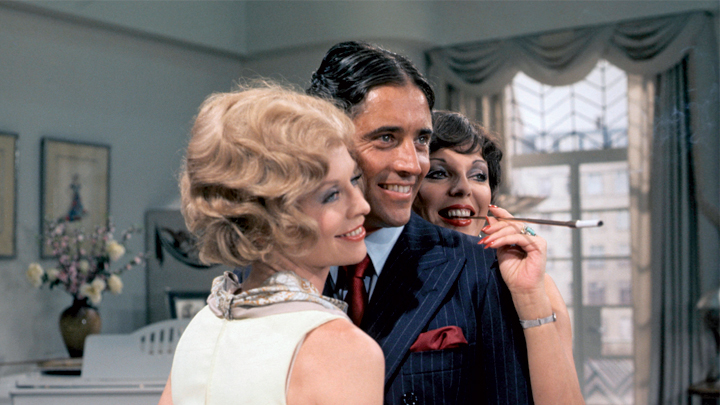 A polished comedy of manners starring Susannah York and Joan Collins, followed by a fascinating morality tale.

On sale
14-04-2015 11:30 AM
Anglia TV 1974
Directed by Donald McWhinnie
With Susannah York, Joan Collins, Sacha Distel, Lally Bowers
52 min
This perfectly constructed comedy of manners, a TV adaptation of Coward's play by William Fairchild, provided the perfect star vehicle for Susannah York and Joan Collins. Sacha Distel gives a surprisingly good cameo as the dashing Frenchman with whom both women are infatuated, while Lally Bowers' servant is a miracle of comic timing, undercutting her mistress at every turn.
+ Playhouse: The Kindness of Mrs Radcliffe
BBC 1981
Directed by Chris Menaul
With Elizabeth Spriggs, Annie Leon, Leon Sinden
55 min
Dramatised by Stanley Price from a short story by Coward, this fascinating morality tale sees Coward holding up what he considers to be the vices of the age to scrutiny. Elizabeth Spriggs perfectly captures the terrifying self righteousness of Mrs Radcliffe, a pillar of the community whose utter insensitivity sows discord and misery in her wake.